Residents of East Sussex village were shocked and horrified after a caravan with effigies of Gypsies was burnt at a village bonfire party organized by the Firle Bonfire Society.
On Saturday last, October 25, 2003, a caravan was wheeled thru the street of the village Firle in East Sussex, before later being set alight and blown up with heavy fireworks at the village bonfire party.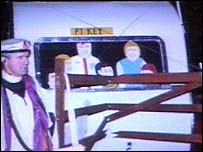 One villager, who was attending the bonfire party with her seven-year-old daughter, said that a caravan was being wheeled down the street, which portrayed women and children inside, with the word "pikey" written on the back, and the image of a scantily clad woman standing in the door.
Other villagers, who have asked to remain anonymous, have said that the effigy was chosen after the recent eviction of travelers from a nearby field.
After the event images of this event were even posted on the website of the Firle Bonfire Society.
Richard Gravett, the chairman of the Firle Bonfire Society, said that there was no racist slant in this towards anyone from the Traveling community. "If anything, it's actually completely the other way", he said. However, in my opinion, that is rather a hollow and feeble excuse and they sure could have fooled me. If there was no racist slant intended then what was intended I would like to know. This was and is a direct attack on the traveling people, Romani and otherwise, and especially a racist one as the Romani-Gypsy in the UK are - under law, such as it is - a protected ethnic minority. (A statement by the society is appended to this article).
The Commission for Racial Equality - so it is reported - has called for those responsible to be prosecuted for incitement to racial hatred to the full extent of the law but, and this is this author's opinion and I am sure many of my Romani bothers and sisters will share this from experience, I am sure nothing will come out of this as it is only "Dirty Gyppos" that have been the target of this insult, if that is the right word to use.
Seeing that real firebombing of Romani encampments and homes are a regular occurrence on the European mainland, including Germany, to even consider doing something like that in jest at a public bonfire display is not just tasteless, it is outrageous and those responsible for this outrage should be brought to book. If this can happen in the UK and if those people get away with this, let me call it by its real name, crime, it could well open the floodgates, in my view, to real attacks on our People by a variety of yobs. Something need to be done now before it is too late and an example made out of the perpetrators regardless of what they may claim to have intended to show with this vile display. The police needs to take this serious and act and bring those people to book but I am not holding my breath, that is for sure, as I just cannot see it happen. We, the Romani People of the British Isles and elsewhere have seen too many things perpetrated against us with the perpetrators getting away with it all the time.
M. V. Smith
Editor-in-Chief
Here follows the rather feeble excuse by the Firle Bonfire Society as taken from their website...
FIRLE BONFIRE SOCIETY CELEBRATIONS 2003
Firle Bonfire Society - like other Bonfire Societies throughout Sussex - base the topic of their fireworks tableau on significant local events that have taken place throughout the year. The tableau is intended to be a comment on those events and this year was no different.
During the summer a number of travellers moved on to privately owned farmland near the village. Wanting to use this land for their own purposes, the landowner (the Firle Estate) asked East Sussex County Council, Lewes District Council and Sussex Police for their help in this matter. Unfortunately, and for a number of reasons, help was not forthcoming and it was some time before the landowner was able to reclaim the field that had been occupied by the travellers.
The Bonfire Society tableau "Strawberry Fields Forever" was a symbolic reminder of those events. It called into question the way that the authorities had dealt with the situation. The tableau was primarily intended to criticise the local authorities whose lack of action had caused so much frustration locally. Richard Gravett, Chairman of Firle Bonfire Society, said today: "We regret that the Bonfire Society's intentions have been misunderstood and misreported"

The Firle Bonfire Society website can be found on
www.firlebonfire.com
. On the other hand, maybe, I should better say "could be found", as you will get an "error 403 Forbidden" message from the server now. It appears as if the server has removed this societys website from its archives or the society has closed it down themselves. Ed.